WSF Coral Deck | Download printable cards and rules (48Mb pdf) | Festival Homepage | Exhibit Homepage | Get More Cards | How To Play

June 25, 2012 (Note: the above link for cards is the print version – pdf of online version is also available here)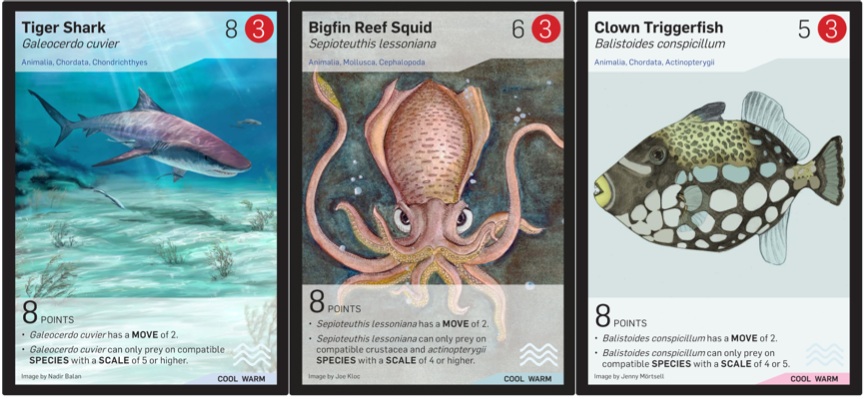 World Science Festival 2012 events are held throughout the city of New York. For more information, please visit www.worldsciencefestival.com.

American Museum of Natural History, Central Park West at 79th Street, New York, NY, 10024-5192 (google map).
The World Science Festival is a production of the Science Festival Foundation, a 501(c)(3) non-profit organization headquartered in New York City. The Foundation's mission is to cultivate a general public informed by science, inspired by its wonder, convinced of its value, and prepared to engage with its implications for the future.

The American Museum of Natural History (abbreviated as AMNH), located on the Upper West Side of Manhattan in New York City, United States, is one of the largest and most celebrated museums in the world. Located in park-like grounds across the street from Central Park, the Museum comprises 25 interconnected buildings that house 46 permanent exhibition halls, research laboratories, and its renowned library. The collections contain over 32 million specimens, of which only a small fraction can be displayed at any given time (From Wikipedia, May 31, 2012).
Algae Takeover | Event | card
Bigfin Reef Squid | Sepioteuthis lessoniana | card
Bluebell Sea Squirts | Clavelina moluccensis | card
Bottom Trawling | Event | card
Brain Coral | Diploria strigosa | card
Brown Macroalgae | Sargassum spp. | card
Bubblegum Coral | Paragoria arborea | card
Bubble-tip Anemone | Entacmaea quadricolor | card
Christmas Tree Worm | Spirobranchus giganteus | card
Clown Triggerfish | Balistoides conspicillum | card
Coastal Development | Event | card
Coral Bleaching | Event | card
Coralline Algae | Porolithon spp. | card
Crown of Thorns Starfish | Acanthaster planci | card
Cyanobacteria | Prochlorococcus spp. | card
Diatom | Chaetocerus spp. | card
Dumb Scuba Divers | Event | card
Feather Duster Worm | Sebellastarte magnifica | card
Flamingo Tongue Snail | Cyphoma gibbosum | card
Lophelia Coral | Lophelia pertusa | card
Maiden's Hair | Chlorodesmis fastigiata | card
Marine Protected Area | Event | card
Nudibranch | Nembrotha cristata | card
Ocean Acidification | Event | card
Pajama cardinalfish | Sphaeramia nematoptera | card
Redfish | Sebastes spp. | card
Rising Ocean Temperature | Event | card
Sea Cucumber | Bohadschia argus | card
Sea Sparkle | Noctiluca scintillans | card
Spinyhead Blenny | Acanthemblemaria spinosa | card
Spiny Lobster | Panulirus argus | card
Staghorn Coral | Acropora millepora | card
Star Coral | Monastrea cavernosa | card
Stoplight Parrotfish | Sparisoma viride | card
Tiger Shark | Galeocerdo cuvier | card
Venus Sea Fan | Gorgonia flabellum | card
Whale Shark | Rhincodon typus | card
Zooxanthellae | Symbiodinium spp. | card

Joe Kloc | link

Spiny Lobster | Panulirus argus | card
Bigfin Reef Squid | Sepioteuthis lessoniana | card
Sea Sparkle | Noctiluca scintillans | card
Spinyhead Blenny | Acanthemblemaria spinosa | card
Venus Sea Fan | Gorgonia flabellum | card

Melissa Guion | link

Pajama cardinalfish | Sphaeramia nematoptera | card
Stoplight Parrotfish | Sparisoma viride | card
Diatom | Chaetocerus spp. | card
Bubble-tip Anemone | Entacmaea quadricolor | card
Christmas Tree Worm | Spirobranchus giganteus | card

Nadir Balan | link

Redfish | Sebastes spp. | card
Brain Coral | Diploria strigosa | card
Tiger Shark | Galeocerdo cuvier | card
Zooxanthellae | Symbiodinium spp. | card
Maiden's Hair | Chlorodesmis fastigiata | card

Maki Naro | link

Whale Shark | Rhincodon typus | card
Bubblegum Coral | Paragoria arborea | card
Nudibranch | Nembrotha cristata | card
Flamingo Tongue Snail | Cyphoma gibbosum | card
Feather Duster Worm

Jenny Mörtsell | link

Lophelia Coral | Lophelia pertusa | card
Sea Cucumber | Bohadschia argus | card
Crown of Thorns Starfish | Acanthaster planci | card
Star Coral | Monastrea cavernosa | card
Clown Triggerfish | Balistoides conspicillum | card

Emilie Clark | link

Cyanobacteria | Prochlorococcus spp. | card
Bluebell Sea Squirts | Clavelina moluccensis | card
Staghorn Coral | Acropora millepora | card
Brown Macroalgae | Sargassum spp. | card
Coralline Algae | Porolithon spp. | card
[ Banner photo modified from this image. Photographer: Carl Mikoy. Fonts used: Gill Sans and CAC Champagne. ]