RELEVANT LINKS
Buy a deck
Download printable cards and rules (48Mb pdf)
World Science Festival Homepage
Exhibit Homepage
Get More Cards
How To Play
RELEASE DATES:
Web – Free print your own: June 25, 2012
High Quality Physical Deck – 400 packs given away at WSF2012
High Quality Physical Deck – for online purchase: April 29th, 2014
NOTES:
This deck has slightly modified rules due to the unconventional nature of how coral ecosystems work: as such, this deck has been classified as an EXPERT deck. Please see rules that accompany the printable cards pdf.
The WSF Coral Reef Deck was produced in collaboration with the 2012 World Science Festival's coral reef exhibit, Reefs As Never Before Seen. The exhibit premiered on May 31st, 2012, at the American Museum of Natural History in New York City.
The WSF deck features 30 custom illustrations by Joe Kloc, Melissa Guion, Nadir Balan, Maki Naro, Jenny Mörtsell, Derek Tan, and Emilie Clark!
DETAILED CARD LIST
Click here.
SAMPLE CARDS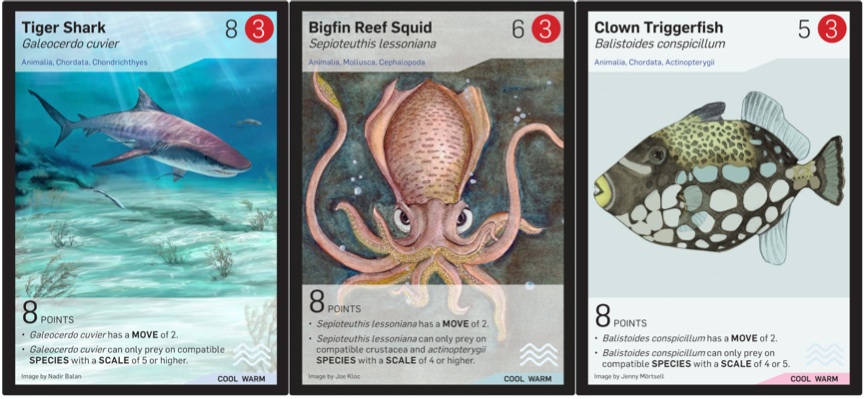 DECK HOST DETAILS
World Science Festival 2012 events are held throughout the city of New York. For more information, please visit
www.worldsciencefestival.com

The World Science Festival is a production of the Science Festival Foundation, a 501(c)(3) non-profit organization headquartered in New York City. The Foundation's mission is to cultivate a general public informed by science, inspired by its wonder, convinced of its value, and prepared to engage with its implications for the future.
American Museum of Natural History, Central Park West at 79th Street, New York, NY, 10024-5192 (google map).
The American Museum of Natural History (abbreviated as AMNH), located on the Upper West Side of Manhattan in New York City, United States, is one of the largest and most celebrated museums in the world. Located in park-like grounds across the street from Central Park, the Museum comprises 25 interconnected buildings that house 46 permanent exhibition halls, research laboratories, and its renowned library. The collections contain over 32 million specimens, of which only a small fraction can be displayed at any given time (From Wikipedia, May 31, 2012).
[ Banner photo modified from this image. Photographer: Carl Mikoy. Fonts used: Gill Sans and CAC Champagne. ]